DONATE TO IPOC MINISTRIES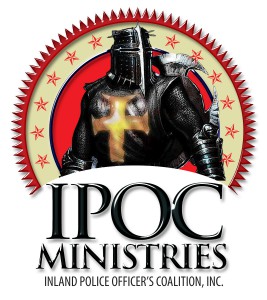 Thank you for your interest in supporting the work of this ministry.  We are a tax-exempt 501(c)(3) non-profit organization. Therefore, your donations are tax-deductible.
Your donations will better equip IPOC Ministries to host events, further the Gospel of Jesus Christ, and to make a difference in our communities.
We have no staff, no payroll, nor building. Therefore, your entire donation goes directly to our mission, and not our own overhead.
We believe in accountability and transparency. Therefore if a donor requests a 'year to date' income/expense statement, we will accommodate you. However we will not provide the names of those that have previously given.
We have provided you with different ways to submit your donations. Either the conventional way by mailing your check. Or you can donate online with any credit card or debit card, through our safe and secure online donations page.
Please write your check out to either 'IPOC,' or 'Inland Police Officers Coalition,' and mail it to PO Box 9872, Redlands, CA 92375. You will immediately receive a receipt for your own record.
Or you can donate online here. You will immediately receive a receipt from our bank, to your email address.
We respect your privacy and security. Your information is secured using SSL (Secure Sockets Layer), the leading security protocol on the Internet. The information is encrypted and exchanged directly with our banks' merchant services. We do not use a third party source!
"You are either called to go down into the well, or hold the rope for those who go down. Either way, there will be scars on your hands." HeartCry Missionary Society