June 24, 2018
Video evangelizing a homicide scene (an edited compilation)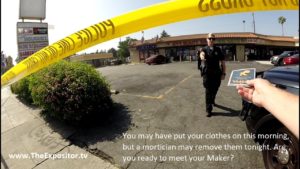 Today while evangelizing, I stumbled across a homicide scene in the beat I often evangelize. A couple years ago some gangsters threw rocks and bottles at me from this same parking lot. In the middle of the night four victims were shot, so far one has succumbed to his fatal gunshot wounds. So I shared the Gospel with everyone possible that was present. Those that refused a tract, heard the Gospel. I appreciate the humble woman that stood and listened for such a long tome (longer than the video depicts).
The Kodak moment for me was reaching under the crime scene tape, while handing-off Gospel tracts to a police officer (for the other cops too). I witnessed to cops, crooks, convicts, citizens, and even the hazmat team that was about to clean-up the aftermath of body parts, blood, and brain matter.
Interestingly a pastor arrived with a stack of 'post card invitations' to a "community block party." He did not mention Christ, His glorious Gospel, nor the need for salvation. He simply invited everyone to a "community block party" where there will be face painting, a kids jumper, giveaways including bicycles, a 50" TV, and a refrigerator. There will also be free food, free groceries, free clothing, jobs and housing resources, and lastly the invite mentioned "Gospel music." He advised he's trying to "unite" with the lost world. But the Bible says do not be unequally yoked, and to be sanctified.
My friends, the problem with America is not the Whitehouse (no matter who's president), it's our unbiblical church houses that do not preach nor share the glorious Gospel in the streets. But rather they unbiblically invite the world to their "church," block parties, and/or various forms of socialism. As I said in a previous post ~
Nowhere in the Scriptures are evangelists (or street preachers) told to first get the worlds permission to preach. Nowhere in the Scriptures are Christians told to accommodate the world. Nowhere in the Scriptures are we told to only preach to crowds that are willing to listen. Nowhere in the Scriptures are we told to redact, truncate, or replace the preaching of the glorious Gospel with tricks, gimmicks, gadgets, skits, magic, entertainment, cash giveaways, gift card giveaways, trivia questions, word games, jokes, or comedy. Nowhere in the Scriptures are we told to give the heckler a microphone and a box to stand on, so they can blaspheme the Lord and use profanity. We ought to be thankful that these evangelists are out there. But when our evangelism efforts become more man-centric, and less Gospel-centric; it's no longer orthodox Biblical evangelism, it is heterodoxical.
You may have put your clothes on this morning, but a mortician may remove them tonight. Are you ready to meet your Maker?
By the grace of God, for the glory of God. This Gospel tract can be read here.