April 3, 2018
A beautiful video of the funeral of LAPD officer Tracey S. Whittaker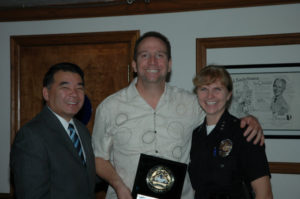 This video brings much sentimental value. I served on the LAPD Honor Guard detail, where I performed the 21-gun salute, and U.S. flag folds at funerals, as well as various other details and presentations at VIP events.
One day when I pass, these honors will be extended to my next of kin on my behalf. However this year I spoke to my wife about considering having me cremated instead, and to not even pay for my ashes (leaving my ashes behind, since I'll be with the Lord). And if my body were to be buried, it would not be covered with the U.S. flag, because it increasingly represents the legislation of lawlessness and ungodliness, but instead covered with the Christian flag. The jury is still out on this decision. Nonetheless what would matter the most to me, is that the preacher would preach the whole counsel of God to my friends and loved ones left behind (as a friend asked me to do here). I've been to too many funerals where it never is (a majority of them). Last year I attended two funerals for two pastors that I've known for years, and the Gospel wasn't even presented at all, not even a sermon.
My friends, you may have put your shoes on this morning, but a mortician may remove them tonight. Are you ready to meet your Maker? To know more about eternity, and our need for salvation, read our Gospel tract here.
Thank you LAPD Media Relations for this wonderful video. I've watched you guys in action at various police funerals, you're much appreciated. – Bill Rhetts #25114