June 3, 2014
Pastor Danny Cortez of New Heart Community Church (a Southern Baptist Church) believes today's homosexuality is no longer sin (video evidence)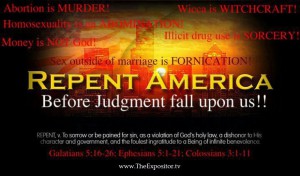 June 3rd, 2014
Copyright © 2014 – All rights reserved.
by Chaplain Bill
Sadly yesterday via Facebook we learned that more Southern Baptist Churches (SBC) have fallen away from the truth. After that post, I received information from a long time pastor friend that pastors a church in Los Angeles. He told me that a SBC church near him, has recently officially adopted 'same sex relationships,' and they call this sinful life style the "third way."
Before you read on, please understand that I am more critical of heterosexual sins, such as fornication or adultery within the professed church, than I am the homosexual sin outside the church. I expect non-repented willful sin from the non-saved world, but not within the 'church'. If you profess to be a Christian, but are willingly continuing in these heterosexuals sins, you are most likely not saved. I believe there are more fornicators sitting inside buildings that they call their church, than there are homosexuals standing on the outside. Therefore I ask you to either repent, or quit calling yourself a Christian.
Church, if we truly love the Lord, we would take a bold stand on these issues. If we truly loved His bride (the church) we would edify, equip, encourage, and build up the body of Christ. If we truly loved the lost, we would not affirm their sins. Affirming sin is not love, that is an unholy hatred.
I was going to write extensively about this, but I see that 'Apprising Ministries' (a watchman ministry) has already documented it below. Rather than repeat their great work, I'll only write a preface to their below article.
However brethren do not be dismayed. The encouraging part of this, is this it's more evidence of how accurate the Lords Word is. As we are witnessing such an increase of the apostasy (aka the falling way.) "Let no one deceive you in any way. For that day will not come, unless the rebellion comes first, and the man of lawlessness is revealed, the son of destruction," (2 Thessalonians 2:3).
The Scriptures are prophetic and perfect in forewarning us that many (the majority it seems) that profess to be Christian, will approve of false teachers. "Preach the word! Be ready in season and out of season. Convince, rebuke, exhort, with all longsuffering and teaching. For the time will come when they will not endure sound doctrine, but according to their own desires, because they have itching ears, they will heap up for themselves teachers; and they will turn their ears away from the truth, and be turned aside to fables" (2 Timothy 4:2-4).
Pastor Danny Cortez literally turned aside to fables. I watched his sermon (provided in the below link). This was the sermon where he first told his entire congregation that he now affirms the homosexual sin (as not a sin). However if you do not have the Holy Spirits discernment, then please do not watch this video; as it may pull you away as well.
Below are a 'few of many' of my observations in Cortez' video-sermon (including but not limited to).
In this video pastor Danny Cortez clearly has 'another Jesus' warned about in 2 Corinthians 11:4 (see my video on that verse here).
Cortez admits frequenting gay bars and/or other places alike, in hopes to better "open" his depraved heart. That is in gross violation of many commandments, to not be friends with the world (James 4:4-5 & 1 John 2:15).
Cortez clearly demonstrates a form of 'love' that the world loves, but it is an unbiblical love. Please know that the following passage is in the context of walking in Biblical love, Paul said the following.
"Therefore be imitators of God, as beloved children. And walk in love, as Christ loved us and gave himself up for us, a fragrant offering and sacrifice to God. But sexual immorality and all impurity or covetousness must not even be named among you, as is proper among saints. Let there be no filthiness nor foolish talk nor crude joking, which are out of place, but instead let there be thanksgiving. For you may be sure of this, that everyone who is sexually immoral or impure, or who is covetous (that is, an idolater), has no inheritance in the kingdom of Christ and God. Let no one deceive you with empty words, for because of these things the wrath of God comes upon the sons of disobedience. Therefore do not become partners with them; for at one time you were darkness, but now you are light in the Lord. Walk as children of light (for the fruit of light is found in all that is good and right and true), and try to discern what is pleasing to the Lord. Take no part in the unfruitful works of darkness, but instead expose them. For it is shameful even to speak of the things that they do in secret. But when anything is exposed by the light, it becomes visible, for anything that becomes visible is light. Therefore it says, "Awake, O sleeper, and arise from the dead, and Christ will shine on you" (Eph 5:1-14).
Cortez states that Jesus did not come to bring division. Oh really? Let's see what Jesus says about Himself. "Do not think that I have come to bring peace to the earth. I have not come to bring peace, but a sword" (Matthew 10:34).
Cortez twists more Scripture telling us that Christians are not to judge those who profess to be Christian. Gods Word tells us differently.
"I wrote to you in my letter not to associate with sexually immoral people— not at all meaning the sexually immoral of this world, or the greedy and swindlers, or idolaters, since then you would need to go out of the world. But now I am writing to you not to associate with anyone who bears the name of brother if he is guilty of sexual immorality or greed, or is an idolater, reviler, drunkard, or swindler—not even to eat with such a one. For what have I to do with judging outsiders? Is it not those inside the church whom you are to judge? God judges those outside. "Purge the evil person from among you" (1 Cor 5:9-13).
Cortez admits many times "emerging myself in homo-erotic literature," as well as many books on the homosexual lifestyle. King Solomon forewarned us about this. "My son, beware of anything beyond these. Of making many books there is no end, and much study is a weariness of the flesh" (Ecclesiastes 12:12). Please watch my video sermon on this passage.
Cortez grossly twisted the Scriptures in Romans chapter one. He did the same with the "fruit" mentioned in John 15. Cortez now believes that Romans 1 was only referring to "violent" homosexual behavior. That is a perfect example as to how dangerous an eisegesis of the Scriptures is, rather than an exegesis. Cortez committed idolatry by placing another man-made book as his authority before the Bible. Sadly this is too common within most of the church.
Cortez further states that post-modern homosexuality is no longer sin, as it was thousands of years ago. He justifies that opinion by saying that modern day homosexuality is absent violence, abuse, rape, slavery or temple prostitution. Hence, he now affirms this sin as a "third way."
I've got breaking news for Cortez. He is wrong both Biblically and historically. All of the above still exists within the gay community. I know this because I worked undercover VICE in a predominately gay community. There is more rage and violence amongst homosexuals than heterosexuals. The underground gay bath houses in Los Angeles still exist. The sex slavery and prostitution still exists. I've been in them, I've seen the sadomasochistic encounters (S&M). I've seen the men rushed to the emergency room, after having their rectums and lower GI tracts punctured by sharp objects, as they were strapped down to an S&M apparatus. The human trafficking of boys still exists. Google NAMBLA and see what this organization wants to do to your little boys. It gets much worse than that, but I'll stop here.
This is why the true 'church' must not compromise on even the little things. Yes the wolves and goats will call you a legalist. But we must not waiver.
As my above aforementioned pastor friend said to fellow leaders, "These are the days to take heed and follow Paul's charge to the Philippians … "that you stand firm in one spirit, contending as one man for the faith of the gospel (Philippians 1:27)."
My friend also told me that Biblical pastors will be bringing this up to the board, at the upcoming Southern Baptist Convention. Pray that the SBC corrects their wrongs, and repent from their sins. If they do not, I will be sounding the trumpet for a call to action.
Here is Apprising Ministries article and that video
http://apprising.org/2014/05/31/pastor-danny-cortez-and-his-sbc-gay-affirming-new-heart-community-church/
More important updates in comments below.