August 30, 2014
Scathing video message on 'The Gospel of Accommodation, and Last Days Deception,' by David Wilkerson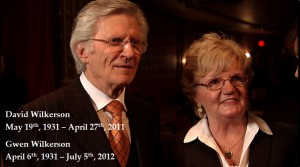 Scathing video message on 'The Gospel of Accommodation, and Last Days Deception,' by David Wilkerson
Over two decades ago I began listening to Wilkerson's sermons. I am so thankful for the many warnings that he gave back then.
As he stated, "folks it's happening every day." Yes it's happening behind many pulpits today. But sadly it's also happening in the evangelism – open-air preaching community. I pray that I would never preach a 'Gospel of Accommodation' while evangelizing.
Since one of my gifts, passions and callings is being a herald in the streets, let's consider this same message regarding street evangelism.
If an evangelist is being 'approved of' or 'accommodated' by the world, they may very well be using "The Gospel of Accommodation."
Let's remind ourselves that when we're in the world, we're not to become like the world. "And be not conformed to this world: but be ye transformed by the renewing of your mind, that ye may prove what is that good, and acceptable, and perfect, will of God" (Romans 12:2).
"Sanctify yourselves therefore, and be ye holy: for I am the Lord your God" (Leviticus 20:7).
The emerging church movement strives to appeal to the world, in hopes to become more attractive to the world. That is a dangerous unbiblical philosophy.
The Lord Jesus said, "If the world hate you, ye know that it hated me before it hated you. If ye were of the world, the world would love his own: but because ye are not of the world, but I have chosen you out of the world, therefore the world hateth you. Remember the word that I said unto you, the servant is not greater than his lord. If they have persecuted me, they will also persecute you; if they have kept my saying, they will keep yours also. But all these things will they do unto you for my name's sake, because they know not him that sent me. If I had not come and spoken unto them, they had not had sin: but now they have no cloak for their sin. He that hateth me hateth my Father also. If I had not done among them the works which none other man did, they had not had sin: but now have they both seen and hated both me and my Father. But this cometh to pass, that the word might be fulfilled that is written in their law, they hated me without a cause" (John 15:18-25).
What did James say about the world? "Ye adulterers and adulteresses, know ye not that the friendship of the world is enmity with God? Whosoever therefore will be a friend of the world is the enemy of God. Do ye think that the scripture saith in vain, the spirit that dwelleth in us lusteth to envy?" (James 4:4-5).
If you would like to view my PowerPoint on 'Biblical Evangelism', click here.