August 7, 2013
Scathing video of open-air preacher Robert Gray giving "The Last Call," a MUST SEE prolific open-air preaching video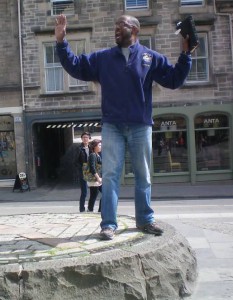 One of the biggest obstacles that open-air preachers face, is those that profess to be Christian (followers of Christ). They seemingly have the spirits gift of telling us, that we should not preach in public places.
I say this with much love, but if that's you. If you're a doubter, a discourager, or a naysayer; then perhaps you need to either ~
A)    Grow in your faith (as we all need to do)
B)    Repent, and believe in the Gospel (Mark 1:15)
C)    Become saved, or
D)    All of the above.
Most of these pacifist naysayers are doing nothing more than making the non-saved persons feel comfortable on their way to hell. That's not a Biblical love.
Where the rubber meets the road, is when a man puts his 'boots to the ground,' and boldly preaches the Gospel in an unsafe, unpredictable, dangerous, uncontrolled environment (as they often get threatened, assaulted, and arrested).
First and foremost, open-air preaching is Biblical. Secondly, perhaps this video will change your mind, equip, and edify the church.
Most of us will never know the results of our labor. But the Lord does, and that's all that matters. Remember Christians, that the body of Christ must appreciate the Holy Spirits gifts (and offices of), that are distributed throughout the church (1 Cor 12, Roms 12:4-6, and 1 Pet 4:10 and Eph 4:7-16.)
In the below 9-minute video, Open-Air preacher Robert S. Gray gave a bold proclamation of the Gospel, aside a busy bus depot. One man "David" heard this presentation of the Gospel. David then responds to the Gospel. As the video description says, "Three weeks later something happens to David that would change his life, as he knew it, forever."
Glory to God, but thank you Robert for doing the Lords' will, and for not neglecting the gifts that He has given you. Robert has theological and evangelistic integrity. Which means he would never manipulate nor manufacture 'results.' It's a wonderful thing to see a man respond to the open-air preaching of the glorious Gospel. Thank you Paul Latour of Word Street Journal for putting this video together.
Side note: If you would like to view my PowerPoint on 'Biblical Evangelism', click here.