March 1, 2013
Video on "the shame of police suicide, and where is the piper?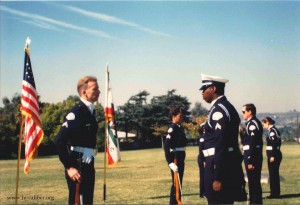 This video is sad, but so true. What is important is not how you died, but how you lived.
As a former member of the LAPD Honor guard detail, I've had the privilege of performing the 21 gun salutes, as well as the American flag folding ceremonies at funerals (Video #2 below. In this video I was a rifleman, and my partner Monica Kelley was a pallbearer.)

Some of these funerals were deaths by suicide. However, in Los Angeles, they did have a piper for suicidal deaths. However, they could not have the helicopter fly-over.
The helicopter fly-over was a formation of helicopters, with one that would fly out of formation, and disappear into the midst. That represented the officer that was just laid to rest. In this particular funeral, there were not enough helicopters available. Therefore there was always one absent from the formation (download that video here.)
The fly-over was perfectly timed, along with the precise maneuvering and synchronizing of those Springfield rifles; as we squeezed off our triggers in those emotional 21 gun salutes.
Having said all that. What's even more important than how you lived, is to know this. 'You may put your shoes on in the morning. But a mortician may remove them in the night. Are you ready to meet your Maker?' Click here to better understand Salvation and eternal life.
Video 1 of 2 'Police suicide and where is the piper?'

Video 2 'Performing the 21 gun salute at LAPD officer Christie Hamilton's funeral'