March 29, 2016
Video message on 'Five Steps to Genuine Revival,' Ian Paisley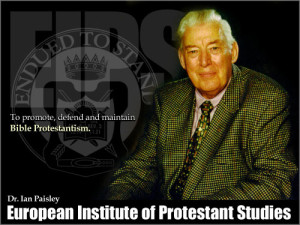 This message was preached back in 1976, but it is most applicable to us today. As he shouted "Where is the militancy of the church?"
Though I would not categorize this message as a "sermon," it is an excellent speech.
What I would add to this message, is what I've said many time before. What we deserve here in America – before a Biblical revival. Is a strong judgement by God, and persecution of His Church.
There's not too many old-school preachers left like Ian Paisley. Paisley was a long-term legislator in Ireland, and a bold-prolific preacher. On Sept 12th, 2014, at 88 years of age, the Lord Jesus Christ took him home into glory.