October 3, 2017
Video of Preacher pleading to many partygoers at the Jason Alden country western concert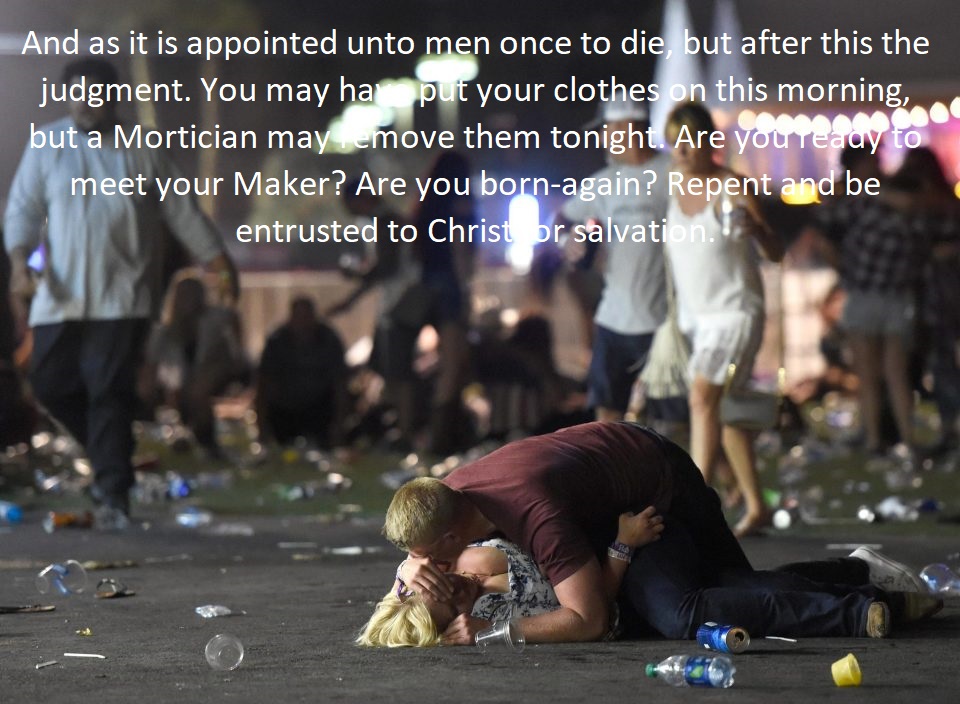 When I first posted this video, the YouTuber of this video (unworthyservant) advised his viewers that this preaching was at the exact same concert as was the shooting. It was later determined that information was incorrect. Yes this was a 'Jason Alden' concert, but it was in the Bay area, just days before the shooting at the 'Route 91 Harvest' concert in Las Vegas. Please accept my apology for the misinformation. Nonetheless this video is very telling.
Brother Kevin Farrer (a Cryer) was crying-out at this 'Jason Alden' concert in the Bay area, just before the shooting at the 'Route 91 Harvest' concert in Las Vegas.
For those of you that believe that country western fans are all "good people," and that they're all going to heaven, and that those that died this week in Vegas will all "RIP" (as seen on Facebook), then watch how 'these fans' at this  Jason Alden concert mock and scoff at the Lord. Watch and listen to how they praise sin, and watch how at least one of them praises Satan.
When the police escorted one heckler away, the crowd even yells "take him (the preacher) out."
It's difficult to imagine where those victims in Las Vegas will spend 'their' eternity. Though we cannot tell you which ones went to hell, and which ones went to heaven. I can tell you what the Scriptures say, as to whom will not  go to heaven, and whom will go to hell; frankly many at both concerts were practicing those sinful life-styles, even during the concert (including but not limited to fornication, drunkenness, revelry, sensuality, worldliness, homosexuality, sorcery, ect.)
Christians "Let love be without hypocrisy. Abhor what is evil; cling to what is good" (Romans 12:9).
Regarding the Las Vegas concert. God is not going to judge those victim's on a sliding scale, nor a curve system. He's not going to compare their sins to the one that killed them. They will have to give an account to God for every thought, deed, action, and sin that they've committed against a holy God.
In the Law Enforcement realm, it is right to call that shooter "the suspect," and all of those partygoers "the victims" (as they were named in the police report). But in the realm of Theology, or a 'Biblical world view,' all of us are "suspects" (enemies of God) until we are born again. Every one of those shooting "victims" will stand before God, and will have to give an account, and none of them will be able to tell God "I was the victim." And those that were not truly born-again of Christ's Incorruptible Seed (which would include a repented life-style), will be cast into the lake of fire, which will be their second death. It is a 'hard truth' to say, that some of those "victims" will sadly be in the same hell, along with the shooter.
Christians, we must have a higher view of God, than man. We must loathe our sins, and see them for what they are. The same God that is infinite in love, is also infinite in justice, and wrath.
Or do you not know that the unrighteous will not inherit the kingdom of God? Do not be deceived; neither fornicators, nor idolaters, nor adulterers, nor effeminate, nor homosexuals, nor thieves, nor the covetous, nor drunkards, nor revilers, nor swindlers, will inherit the kingdom of God" (1 Cor 6:9-10).
I've seen professing  Christians ignorantly post on social media, "God did not allow this." I've seen Atheists shout,  "Where was your God during the Jason Alden concert?" Be very careful how you portray the character of God, lest you commit blasphemy. Have we forgot that God has decreed evil men to commit evil acts for His glory, and to usher in His judgment? Have we forgot that God has predestined  (or decreed) godless men to crucify (execute) the Lord Jesus?  And Jesus was the only innocent sinless person.
"Ye men of Israel, hear these words; Jesus of Nazareth, a man approved of God among you by miracles and wonders and signs, which God did by him in the midst of you, as ye yourselves also know: 23 Him, being delivered by the determinate counsel and foreknowledge of God, ye have taken, and by wicked hands have crucified and slain: 24 Whom God hath raised up, having loosed the pains of death: because it was not possible that he should be holden of it." (Acts 2:22-24).
Then don't you dare inSINuate that God would not decree this shooting to occur. As one scholar said ~
"People lift their hand to rebel against the Most High only to find that their rebellion is unwitting service in the wonderful designs of God. Even sin cannot frustrate the purposes of the Almighty. He Himself does not commit sin, but He has decreed that there be acts that are sin – for the acts of Pilate and Herod were predestined by God's plan."

"Shall a trumpet be blown in the city, and the people not be afraid? Shall there be evil in a city, and the LORD hath not done it?" Amos 3:6
Having said that. As we mourn for the lost, and their loved ones, let us pray that 'through this tragedy,' that many will repent and be entrusted to Christ for salvation.
DISCLAIMER: IPOC Ministries makes an effort to share excerpts from various sermons (or videos), from various Christians. However, this does not mean that IPOC endorses all views of every person shared here.
Furthermore, though I too have misspoke many times while preaching in the streets. I disagree with Kevin saying "Jesus Christ who died and suffered for you…", because this gives them the impression that Christ already atoned for all of their sins (aka universal atonement), hence that they are all OK with God, and are in no need of salvation. The truth is, Christ only atoned for the sins of His elect (those that He chooses to save, those that repent and believe). He did not atone for those that go to hell. I know Kevin understands that, but I don't want my blog viewers to be misled. Thank you brother Kevin for your labor at this location.
To know more about our need for salvation, click on 'The Glorious Gospel" link here.
UPDATE: I will be adding more comments, in the comments section below.